Blog 37: The Post op Shoulder: Weeks 6+

Following on from our previous blog regarding 'The Post-op Shoulder', we will now discuss a rehabilitation program for the post-op shoulder after 6 weeks. From this phase you will usually be returning to full range of motion and should have began some form of strengthening to your shoulder blade and rotator cuff muscles. You may also have the all-clear to return to running, which should start low intensity and slowly built back up to pre-injury levels
Weeks 6-8:
Range of motion:
Once your surgeon has given the all clear, it is time to start increasing your shoulder rotation range of motion in different shoulder positions. This should be started by slowly increasing how far you lift your arm to the side, while rotating the arm at the elbow.
Strength:
Strengthening your rotator cuff through range and with resistance. Holding a theraband with your elbows bent at 90 degrees, rotate your arm from your elbow either toward your stomach, or away. Repeat roughly 10-15 x 3, daily.
Internal Rotation: External Rotation:

Shoulder blade (Scapula) strengthening is also very important for the movement of your shoulder. These can be performed with more weight. Aim to perform 10x3 each session and 3-4 times per week.
Shrug: Rows: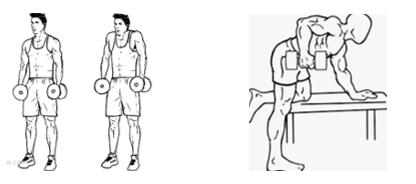 Weeks 8-10:
Strengthening can be progressed here to increased weight or resistance. Rotator cuff strengthening can be performed with the arm at 45 degrees to the body. Increased resistance can be applied to shoulder flexion and abduction (raise arm forward and to side) but not to be performed above shoulder height.
Range of motion exercises progressed until full range of motion is achieved.
Weeks 10-12:
Strengthening exercises can most likely now be performed above shoulder height. Rotator cuff strengthening can be progressed by performing rotations with your arm at 90 degrees (shoulder height). Once this is achieved pain free, exercises such as bench press, lat pull-downs, shoulder press and seated rows can be started.
Shoulder External rotation at 90 degrees: Shoulder Internal rotation at 90 degrees:

Returning to sport drills can be re-introduced once full range is achieved. Contact drills should be avoided.
Weeks 12+:
Exercises should be mostly gym-based and focusing on strengthening the operated shoulder to equal or better than the non-operated shoulder. Once the strength of both sides is equal, full contact drills can begin. It is recommended to trial a 2-3 weeks of full training with normal match-simulations before returning to competitive sport.
Chest press: Lat Pulldown: Seated Row:

As with most rehab it is very important to consult a therapist or surgeon following surgery. The above exercises are a brief summary of what could be involved and how long it may take to return to sport but are a guide only. If you or anybody you know have recurrent shoulder problems or are booked in for shoulder surgery, feel free to book in a consult with one of our therapists HERE.
---
The Post-op Shoulder (Weeks 0-6)
Shoulder surgery is quite a debilitating procedure and it is very important to rehabilitate afterwards to ensure full range and strength returns, prevent frozen shoulder and assist in returning to your everyday activities. A physiotherapist can assess your shoulder and work out the best methods to help improve the way your shoulder functions following surgery.
Always check with your surgeon or physiotherapist before beginning any exercise program post-surgery. You should also always use pain as a guide to slow down during your exercises, as too much pain can delay your recovery. The exercises below are what you can expect your physio to prescribe to you at each stage of your rehab for the initial 6 weeks.
Week 0-2:
Range of motion exercises: Should be performed for 60-90 seconds each, 3 times per day
Pendulums: Gently rock your arm back and forth, side to side and in circles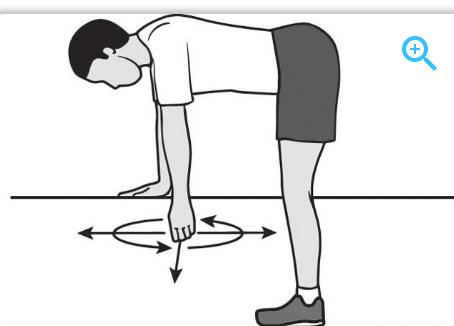 Week 2-4:
Range of motion (active assisted): Use your other arm or a wall to assist your arm through range. Hold each stretch for a count of 5 and repeat 10 times. Perform 3 times per day (This is just a few examples of many exercises your therapist may prescribe to you)
Assisted shoulder flexion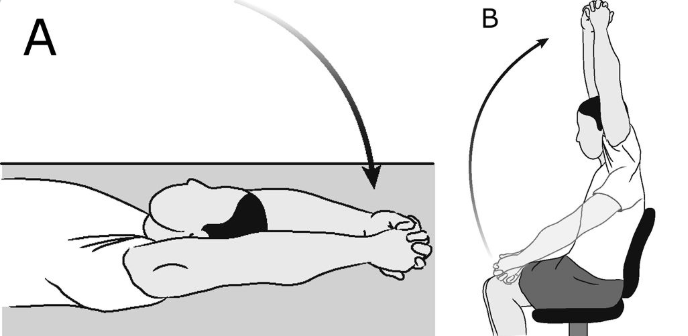 Wall Crawls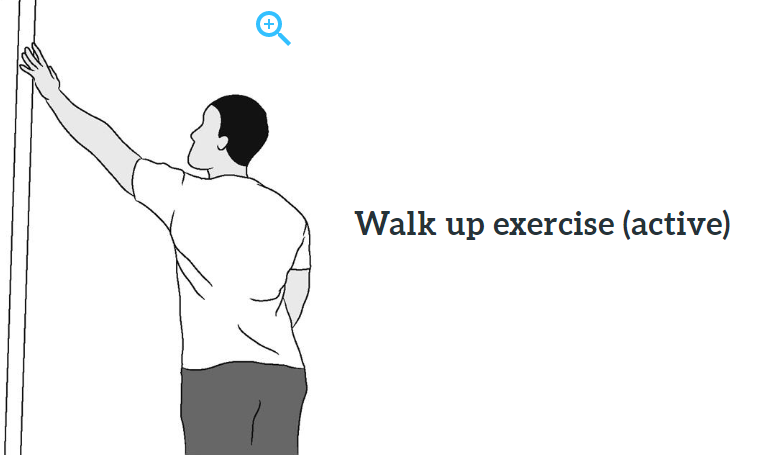 Week 4-6:
Range of motion: Progress range for each exercise as previous.
Strength: Sub-maximal pain free strength exercises against resistance but not through range of motion (using your muscles but they don't move). Hold each exercise for 10 seconds and repeat 3 times. Perform each 3 times per day.
External Rotation: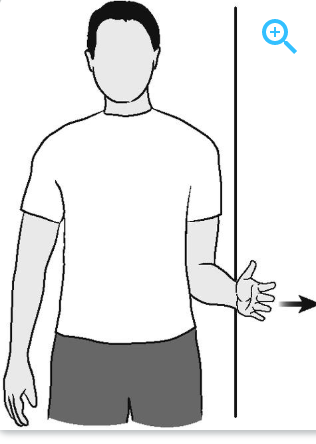 Internal Rotation:
Abduction: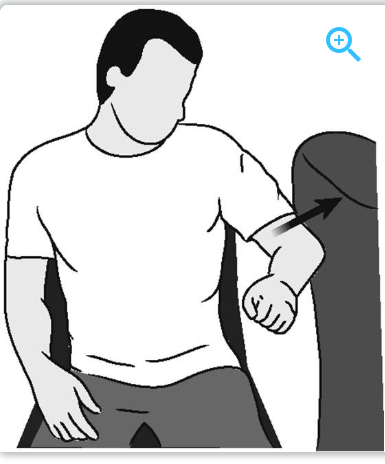 If you or anybody you know is about to have shoulder surgery and would like to be guided through their post-surgery rehab, feel free to book in to see one of our therapists HERE.
---
Thoracic Outlet Syndrome
Thoracic Outlet Syndrome (TOS) is a group of conditions that happen when blood vessels and nerves are compressed between your first rib and your collarbone. This can cause pain in your neck and shoulders as well as cause numbness or hot/cold sensations in your fingertips. Thoracic outlet syndrome can be caused by several different things but is usually due to trauma such as a fall or car accident or sustained poor postures.
Signs and Symptoms:
Thoracic Outlet Syndrome can present with many different symptoms but can be classified depending what structure is involved
Nerve compression

Muscle wasting at base of thumb

Numbness or tingling in arms or finders

Pain or ache in neck/shoulder/hand

Weak grip

Vascular compression

Discoloured hand (bluish colour)

Arm pain and swelling

Blood clots in upper body

Weak or no pulse

Throbbing lump near collarbone
Treatment:
If Thoracic Outlet Syndrome is left untreated it can lead to permanent nerve or blood vessel damage. Basic things you can do to prevent symptoms worsening is to rest with your elbows supported and shoulders elevated as well avoiding carrying heavy objects. Each of these prevent the nerves and vessels that pass through the thoracic outlet from being stretched. Repetitive movements and sustained postures can also both increase symptoms. Your therapist will likely develop a program to strengthen the muscles of your shoulder and shoulder blade in order to improve posture, assist with shoulder movement and control as well as prevent re-occurrence.
If this sounds like anything that you or anybody you know are suffering with, feel free to book in a consultation with one of our therapists HERE.
---
Cortisone injections vs Physiotherapy
For conditions such as subacromial bursitis (bursitis of the shoulder) there are many different treatment options available. For most people, they will be recommended multiple options to reduce their pain and fix their problem. These include physiotherapy exercise, physiotherapy for manual therapy (massage, dry needling etc) cortisone injections, anti-inflammatories and surgery. But which of these is best?
What is bursitis?
Subacromial bursitis is a condition where the bursa (a fluid-filled sac used as a cushion underneath bone) starts to get inflamed due to compression between the acromium on the shoulder blade and the head of the humerus (arm bone).
How does this happen?
A common reason this happens is poor glenohumeral rhythm. This is when the arm moves through range without the shoulder blade moving efficiently with it. When a muscle is injured or not activating effectively this rhythm becomes poor, making the sub-acromial space to get jammed up, causing inflammation of the bursa.
Treatments:
Cortisone injection is a common treatment strategy for subacromial bursitis. The aim of this is to reduce the inflammation of the bursa to reduce the amount of pain. This method is usually effective at reducing pain for the first 6 weeks, but it does very little in terms of fixing the initial cause of the problems.
Physiotherapy has been found to be superior to cortisone injections for pain reduction, shoulder movement and shoulder function in the long term (6 months). Specific exercises to target muscles of the shoulder and shoulder blade help re-train the glenohumeral rhythm, to prevent the bursa being aggravated. Manual therapy with specific exercises has been shown to be even more effective than the exercises alone.
Surgery is not indicated and should only be considered if patients have had no success following physiotherapy and injection and if the reason for the pain is a mechanical lesion of bone spur.
In summary, cortisone injections are effective at giving short-term pain relief, but quite often the reason for the pain is more complicated and requires physiotherapy input for long-term pain relief.
If you or anybody you know has shoulder pain as above, or have trialed cortisone injection without long-term pain relief, feel free to book yourself in to see one of our therapists HERE or contact us on Facebook.
---
Should I Get my Ankle Checked?
Ankle sprains are a common sporting injury and most will recover without further input. For many people this is not the case, and their injury can hang around with pain, stiffness or both. Evidence shows that the ankle also has one of the highest re-injury rates of any injury. So, if you have had a significant injury, or more than one injury to an ankle, it is important to rehabilitate the injury completely.
Acute injuries:
If you have just hurt your ankle there are a few things you can do to check if you require some professional input. The Ottawa ankle rules are a handy guide to check to see if you should get an X-Ray of your ankle to assess for a fracture. If any of the following apply you may have a fracture;
Inability to weight bear for 4 steps

Pain/tenderness over the bone on the outside of your ankle and 6cm above (Lateral Malleolus)

Pain/tenderness over the bone on the inside of your ankle and 6cm above (Medial Malleolus)
Longer-term injuries:
If an injury has occurred and is still giving signs of sustained pain, inflammation, looseness or unsteadiness it is recommended to have a physiotherapist assess your ankle. Some other ways of checking to see if you may need physiotherapy input is through the following mini tests that you can perform yourself;
Compare left and right ankle range by pointing toes, rolling foot in and out and flexing feet up

Stretch each calf and notice any differences

Compare balance between legs with single leg stands

Compare strength of each ankle with single leg calf raises

Compare function of each leg with hopping (height of hop or distance able to hop)
If any of the above mini tests seem different between each side your physiotherapist can help with the following things;
Rule out anything like a fracture and give a diagnosis

Reduce pain and swelling

Increase range of movement

Increase strength of ankle muscles

Return to sport testing, to decide if you are ready to return to sport with reduced risk of injury

Provide preventive exercises to stop it happening again
If you or anybody you know has a persistent or re-occurring ankle injury, feel free to book an appointment with one of our therapists HERE.
---
Whiplash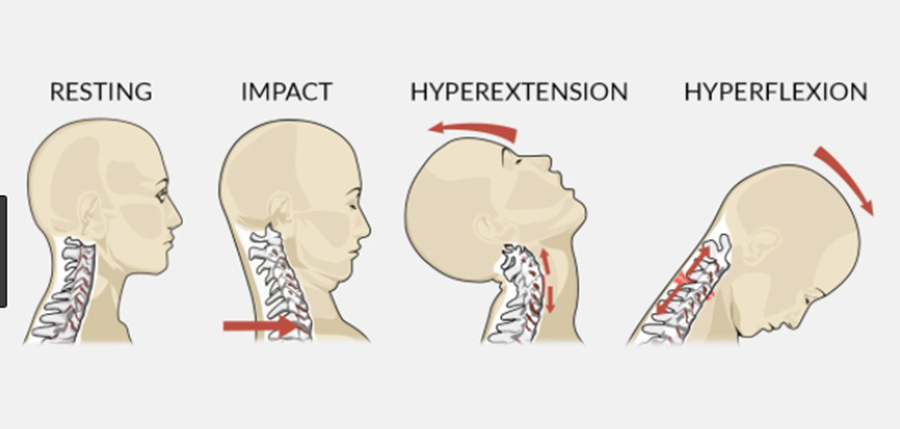 Whiplash is a common neck injury that occurs from quick acceleration-deceleration. It is frequently found following rear-end or side-impact car accidents but can also happen during falls or whilst playing sport. This impact can result in several different bony or soft-tissue injuries (whiplash injury) which can then turn into other issues referred to as Whiplash Associated Disorders (WAD).
Structures that can be affected in a whiplash injury can consist of;
Joints

Intervertebral discs

Muscles

Ligaments

Bones

Nerve roots/spinal cord

Vascular structures
Causes of pain may be to any of these tissues, though there may be secondary swelling, bleeding or inflammation which may create pain in other structures.
Whiplash disorders can present with a combination of motor, sensory and psychological distress. The most common symptoms are headaches and/or neck pain that is constant or movement provoked. Other symptoms can include;
Reduced range of motion in the neck

Poor muscle recruitment in the neck and shoulder regions

Loss of balance

Dizziness

Anxiety/depression

Sleep disturbances
A physiotherapist will likely prescribe you with exercises to encourage movement of the neck. These may include postural exercises, strengthening, stretching and positioning. It is recommended to not use a collar after neck injury following a whiplash event due to the increased likelihood of the neck getting stiff.
We have recently updated our systems to make it easier for TAC patients to claim. If you or anybody you know has had a whiplash injury feel free to book an appointment with one of our therapists HERE.
---
Subacromial Impingement syndrome
Subacromial impingement syndrome (SIS) is a term that describes pain to any structure in the subacromial space of the shoulder (as seen in the image). This can include conditions such as subacromial bursitis, rotator cuff tendinopathy, biceps tendinopathy and many more. It is usually described as pain at the front or side of your shoulder during movements such as raises your arm to the front or to the side. SIS is one of the most common complaints of shoulder pain in Australia.
People with subacromial impingement generally suffer from persistent pain without a known cause. Patients will typically have pain moving their arm from 70° to 120° to the side when standing or laying on their side.
Treatment for subacromial impingement depends on current pain and function. Physiotherapy is typically recommended for 12 months before surgical opinion.
Your physiotherapist will likely manage you with the following treatments;
Relative rest from aggravating activities

Anti-inflammatories to reduce pain and swelling

Strengthening of rotator cuff, upper traps, middle traps and lower trap muscles.

Refer for subacromial injection (Eg. Cortisone for reducing pain and inflammation)
If you or anybody you know has a painful shoulder or thinks they may have subacromial impingement, feel free to book in with one of our therapists HERE.
---
Balance
Poor balance can be an enormous burden for people and will often lead to a higher risk of falls and injury. Balance requires several systems in your body to be functioning well, which may make diagnosing your reason for poor balance difficult. Fortunately, a well-designed physiotherapy program can usually improve your balance and reduce your risk of injury.
Balance relies on three different systems in your body (vision, muscles/joints and vestibular/inner ear). If any of these systems has a flaw it will need to be rehabilitated or other systems trained harder. For example, inner ear conditions such as positional vertigo (BPPV) can be treated with certain head movements, whilst those with poor vision would need to train their leg muscles to be stronger.
Conditions which may affect balance can include;
Ageing

Pain and joint stiffness

Neurological problems (Parkinson's disease or stroke)

Inner-ear problems (Positional vertigo (BPPV or Meniere's disease)

Eye diseases

Diabetes (can affect vision, muscles and sensation)
Your physio can assess your balance and mobility and determine where your issues come from. They will then help create a specific exercise program for you to address these issues. It will usually involve practicing tasks that you may find difficult or strengthening weak muscles in your legs. These exercises must be targeted at your level. Any exercise too easy wont challenge you enough, but an exercise too difficult won't improve you.
If you or anybody you know has balance issues, feel free to book in with one of our physiotherapists HERE for a consult.
---
Patella (kneecap) dislocations
Dislocations of the patella (Kneecap) are a traumatic injury that occurs in sporting and non-sporting populations. The patella sits on the top of the end of your femur (thigh bone) and is supported by several ligaments, muscles and bony ridges to stay in place. Occasionally when twisting the leg with a fixed foot on the ground some of these ligaments can tear, allowing the patella to dislocate to the side of your knee. There can be several reasons why your kneecap could dislocate such as;
Ligament laxity (looseness)

Smaller bony ridges on each side of your patella

Imbalance between strong muscles on the outside of your leg, and weaker muscles on the inside of your leg

Kneecap hypermobility

Mechanical issues
A dislocated patella will present with some common complaints such as
Management:
It is best to get your knee imaged with an MRI or X-Ray after dislocation to rule out any bony fractures and assess the degree of damage. Physiotherapy is the most common form of management after a dislocation and aims to reduce pain, improve function, and prevent future dislocations. Your therapist will give you exercises aimed balancing the strength between your inner/outer knee, as well as range of motion exercises and balancing exercises to prevent future re-occurrences. Your therapist may even recommend using a brace or tape on your knee while playing sport in the future to prevent future injuries.
If you or anybody you know has knee issues or dislocated a joint before, feel free to book in a session with on of our therapists HERE.
---
Injury prevention/FIFA 11+
What is Injury Prevention?
The role of injury prevention in sports has two main roles. Firstly, it aims to prevent injuries in those who have no history of injury, and secondly, prevent re-injury to players who have had an injury in the past (eg previous hamstring injury).
FIFA11+:
The FIFA11+ is a program designed to prevent injuries in soccer, though can be carried over to Australian Rules Football. The program takes 20 minutes and is designed to be completed twice a week. The program can be used in place of a traditional warm-up at training sessions. The program has been shown to reduce the risk of injury by 30% when compared to standard warm-up programs, and can reduce to risk of more severe injuries such a ACL rupture by 50%.
What is involved:
The program requires no equipment and is broken up into three components. Each of these components have three difficulty levels (Level 1, 2, 3) that progressively get more difficult. This allows for further gains throughout the season.
The first phase consists of exercises that you may consider part of a normal warm up, such as run-throughs, Z-Line running etc. The second phase consists of body weight strengthening exercises such as Nordic hamstring curls, bridges and squats to activate and strengthen key muscle groups. The final two minutes consists of higher intensity sprinting, bounding and change of direction skills.
If you would like any more information regarding injury prevention and the FIFA11+ program, feel free to organize a session with one of our clinicians HERE.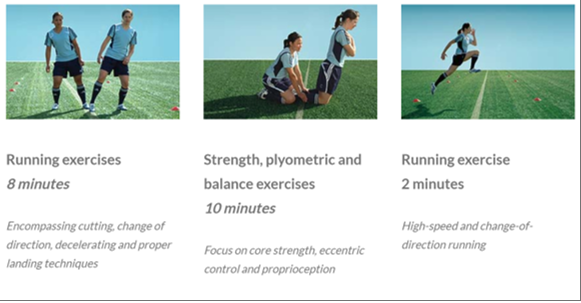 ---
Piriformis Syndrome
What is it?
Piriformis syndrome is a condition where the piriformis muscle compresses the sciatic nerve. The piriformis is a muscle deep beneath your glutes/buttocks, near the top of the hip joint. The sciatic nerve is a thick and long nerve that starts from your lower spine and travels down the back of your leg. This nerve passes alongside or through the piriformis muscle and can be compressed when the piriformis is tight.
Signs and symptoms:
Piriformis syndrome usually starts with pain, numbness or tingling from the buttocks or down the back of the leg. Pain may come on from excessive sitting, running or climbing stairs, as well as when pushing into the buttock. Similar pain and numbness can be present in several other pathologies, so an assessment from your therapist is important.
Treatment:
Treatment for piriformis syndrome can be as simple as avoiding aggravating activities, such as extended periods sitting or long-distance running. If this is not effective your therapist will assess you for muscle weaknesses or tightness and prescribe exercises and stretches to relieve the pain.
Manual therapy such as deep tissue massage, dry needling and myofascial release are also effective at reducing piriformis tightness.
If you or anybody you know has symptoms of piriformis syndrome, feel free to book an appointment online with one of our therapists HERE.
---
To Heat or to Ice?
A very common question we receive in our clinic is whether to put heat or ice onto an injury. Both treatments have their advantages, and both can be pain-relieving but when is the best time to use each?
Ice:
As a general rule ice should be used if you have recently injured an area, have recently had surgery or a procedure, or just finished an aggravating activity like playing sport. Icing an area will cause blood vessels to constrict, which limits bleeding, swelling and inflammation into the area. This also has the added effect of helping with pain in the area.
When to avoid icing:
Immediately before exercise

Long term chronic pain with no recent injury

If you have a vascular disease or poor circulation
How to ice:
Fill plastic bag with crushed ice, use frozen veggie packet, or commercial ice pack

To avoid 'ice burns', it is best to put a cloth or towel between the ice and the skin

Ice the area for no more than 20 minutes

Repeat hourly, or at least 2-3 times over the day
Heat:
Heat has a great affect on injuries that are no longer acute or recent. It is most useful in warming up stiff or scarred muscles, as well as relieving pain and spasm in neck and back injuries. Heat can increase metabolic activity, increase circulation, increase movement of soft tissues like muscle and can relieve spasms. Using heat on a recent injury will increase the inflammation in the area, which may cause more pain and swelling, which will slow your recovery in the long run. We recommend heating an injury after about 5-7 days to help bring in blood to the area with important nutrients for recovery.
When to avoid heat:
Immediately after exercise

Immediately after an acute injury
How to heat:
Commercial heat-packs are the most reliable method of warming an area

Heat for about 20 minutes, 1-2 times a day

Make sure the heat-pack isn't too hot. You should be able to tolerate the heat-pack resting on your skin
If you have any questions or need help rehabilitating an acute injury, feel free to book an appointment with one of our therapists HERE.
---
Distal Radius Fracture
Distal Radius fractures, or wrist fractures, are a break of the end of the Radius, the larger of the two forearm bones. These fractures are often caused by falling on out-stretched hands, especially in osteoporotic populations, though can often happen in sporting situations and are very common in younger people.
Diagnosis:
An X-Ray is required to diagnose a Distal Radius fracture, though you may be suspected of one if you have sharp pain at the wrist, rapid onset swelling or a wrist deformity. An X-ray will also be required to determine if the bone is displaced, or intra-articular, which may require surgery.
Treatment:
Non-Operative:

If the fractures are minimally displaced your doctor may need to perform a reduction, which involves manipulating the bones back into place without surgery.

Casting is required for up to 6 weeks to immobilize the joint. Your doctor will take regular X-rays during this time to make sure the fracture is still in a good position.

Operative:
Usually indicated if the fractured bones are not aligned, the joint surface is damaged, or the radius appears short

The most common surgical procedure is called an ORIF, or Open Reduction Internal Fixation. The bone is re-aligned in surgery and pinned together under the skin.
Rehabilitation:
It is important to get physiotherapy following cast-removal so that you can return to function as soon as possible. Your therapist will focus on increasing your range of motion and getting your wrist strength back to normal levels with manual therapy and home strengthening exercises. Your therapist will also slowly re-introduce you to normal daily tasks and sport-specific movements in a safe manor so that you don't have any re-occurrences.
Outcomes:
Almost all distal radius fractures heal well to an extent regardless of age. Malunion, which is a poor union of the bones can occur and may lead to long term stiffness, reduced range of motion, reduced grip strength and residual pain.
If you or anybody you know has a fracture, or requires any rehabilitation for their wrists, feel free to book and appointment HERE.
---
Cramping
Most people have experienced muscle cramps before, but what are they and why do they happen?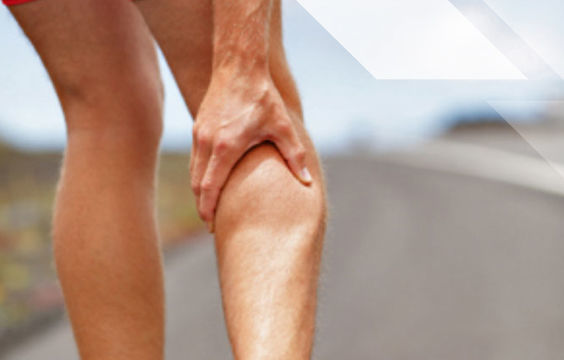 What are cramps:
Cramps are an uncontrollable muscle contraction or spasm which can be quite painful and debilitating. Calves and feet are the most common muscles to cramp, but any muscle can be affected. They can be harmless and will usually resolve by itself, though chronic, long term cramping can be a sign of underlying medical conditions.
Why does it happen:
The exact cause of cramping is somewhat unknown, but likely risk factors that may cause cramping include;
Poor muscular endurance

Increase fatigue

Poor nutrition intake, including lack of magnesium, potassium, calcium and sodium (electrolytes)

Reduced hydration

Short, tight muscles
How can you fix it:
Most cramps will resolve themselves with a bit of rest. If you are experience unrelenting cramping there are a number of things you can do to resolve them.
Stretch: This should help to relax the muscle when it won't stop spasming

Massage: Works like stretching by lengthening and relaxing the muscle

Drink plenty of fluids: Will help to re-hydrate the muscle and make it work more efficiently

Ensure adequate electrolyte intake: Can be from diet, Gatorade or pickle juice

Address muscular weaknesses or muscular endurance deficits

Increase fitness level
If you or anyone you know may benefit from advice or treatment for cramping, book in to see one of our therapists HERE.
---
Creating a pain-free work space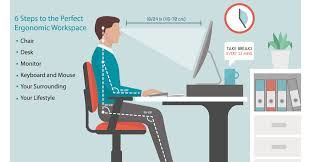 Getting pain at work? Workplace pain is very common but can be avoided! Setting up your workspace can be simple, easy and effective at making you pain-free at the end of your workday.
Perfect your sitting posture:
Pay attention to the way you are sitting. There are some simple positions that you can utilise to avoid neck and back pain whilst you are sitting at your desk;
Sit upright with your back and shoulders against your chair

Arms resting on the armrests of your chair or desk

Keep your feet flat on the floor

Relax your shoulders while typing

Avoid holding your phone at your tummy. Try holding it at computer screen/shoulder height with your arms rested
Take some breaks:
Backs don't like to be in the one position for very long so its important to get up and move around to prevent neck and back stiffness. Going for a 2 minute walk or stretch can help relieve your muscles and make you feel more refreshed. Try getting up every 15-30 minutes if possible, to get your blood flowing and muscles moving.
Invest in your desk:
If you find that you can't take regular breaks, a good idea is to invest in a sit-stand desk. These desks allow you to change positions throughout your day and encourage you to change your posture regularly. There is also evidence that standing instead of sitting is great for your overall health.
If this isn't possible but you would like to make your traditional desk more ergonomic, try increasing the height of the desk to encourage sitting up and avoid slouching, but not so big that you must reach for your keyboard or to do work.
Get a good chair:
Having a good, well-constructed chair can help reduce risk of injury to your neck and back, as well as reduce fatigue and discomfort. Some characteristics of a good office chair for you consist of;
The ability to recline (Sitting at 100-110 degrees is actually better than 90 degrees)

A good backrest with lumbar support

Flexible height

Ability to rotate and swivel
Computer positioning:
Due to the majority of office work being done at computers, a simple change to your computer position can be the difference in how your neck and back feel after a long day at work. Try the following tips to better position your computer and desk;
Place your monitor directly in front of you with the top of your monitor at eye level. Make sure it is not off to one side to avoid neck and eye straining

Make sure your mouse and keyboard are close enough so you can use it with relaxed arms and posture without reaching.

If using a laptop/tablet, consider using an external monitor or keyboard to assist with each of these components
With a few of these simple changes you can be well on your way to preventing future neck or back pain issues. If you would like more information regarding neck or back pain you can book an appointment with one of our therapists HERE.
---
Dry Needling
What is it?
Dry Needling is the use of a fine needle to release knots (trigger points). It is a safe and effective technique to both assess and to treat tight muscles and muscle-related pain. The technique will usually involve needling a trigger point multiple times in order to reduce a patient's symptoms. If done accurately the patient will get a muscle twitch as the knot is released, which will reduce muscle tension and pain.
How can it help?
Dry Needling can help with your injuries through various methods
Relaxing tight muscles

Normalise tone of overactive or underactive muscles

Removing source of irritation (releasing muscles that are pinching a nerve)

Promoting healing due to normalizing circulation to the muscle
When to use it?
With the use of the above methods, Dry Needling can help with a wide range of conditions such as;
Things to watch out for:
It is highly recommended that if any of the following applies to you, you should let your therapist know before needling.
Local infection

Bleeding disorders

Pregnant (especially first trimester)

Recent cardiac surgery

Immunocompromised (cancer patients or recent radiation therapy)

Joint replacement

Cardiac pacemaker

Blood donors should inform your blood bank prior to donating
If you would like to utilise dry needling for any of your aches or pains feel free to book in with one of our clinicians HERE
---
Plantar Fasciitis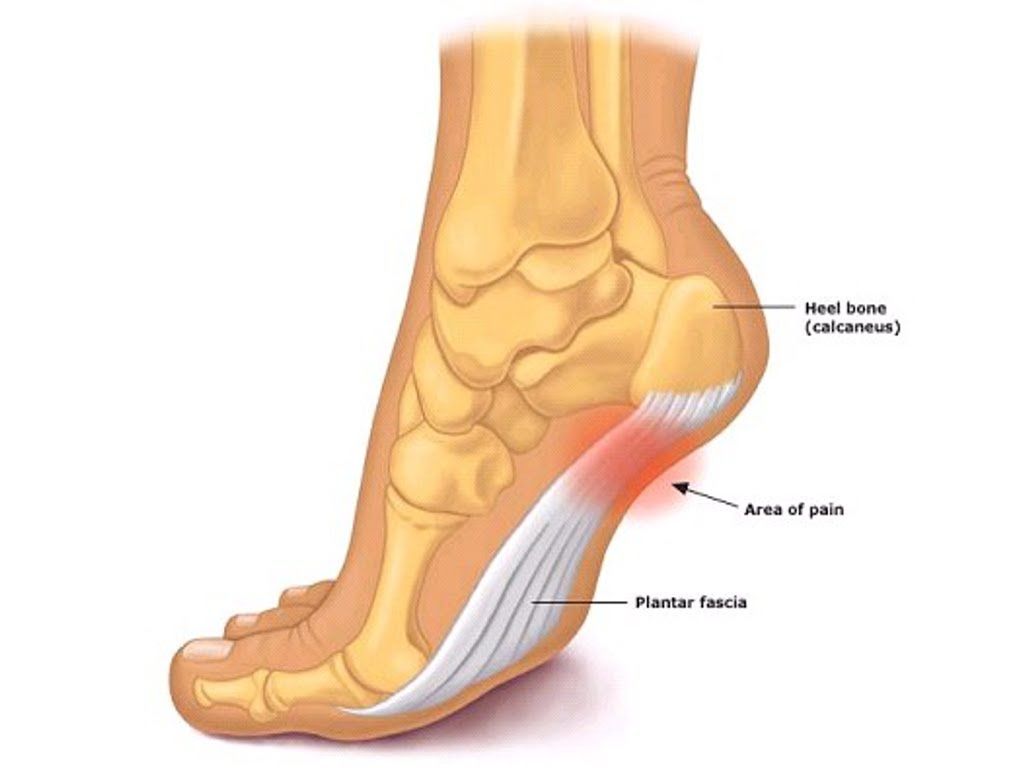 What is Plantar Fasciitis?
Plantar Fasciitis is a common cause of foot pain, usually felt on the inside of your heel. The plantar fascia is a thick tissue that runs from your heel, to the base of your toes. Plantar Fasciitis is inflammation of this tissue which can be due to a range of causes such as;
Flat feet or fallen arches

Overuse

Overstretching

Increasing training load

Spending a lot of time on your feet

Poor footwear
What are the Symptoms?
The main symptom of Plantar Fasciitis is pain on the inside or under your heel. This pain is usually worse for the first few steps in the morning, of after being seated for an extended time, though may also occur after long periods of standing or intense activity.
How is it Treated?
The management of Plantar Fasciitis will usually begin with a thorough assessment of your foot and lower legs. Following this assessment your Physio will give you specific stretches or strengthening exercises aimed towards your deficits. Other adjuncts such as rigid taping and orthotics may also be utilized. Most patients find success in this conservative approach, though some will require medical input.
Return to Sport:
Once the initial pain and inflammation has reduced and movement issues are identified a guided return to sport/activity program will be developed for you. For most people your rehab will look somewhat like this;
Maintain fitness with swimming or cycling

Improve flexibility of the Plantar Fascia and Achilles tendon

Strengthen the Plantar Fascia

Identify and manage running technique issues

Once pain free for a week slowly return to running

Running distance or intensity will be increased a small amount each week

If there is pain felt at any point, then it is important to go back a step
If you or anybody you know thinks that they are suffering from Plantar Fasciitis do not hesitate to book in a session with a Physiotherapist by clicking HERE.
By Jake D'Elia
---
Pilates Health Insurance Reforms
Private Health Insurances are going through some changes to the items that they cover. These are due to occur on the 1st of April this year.
WHAT ARE THE CHANGES THAT AFFECT ME?
One of these changes is that Pilates Classes will no longer be claimable through health insurance. However, there are some exceptions to this.
WHY HAVE THESE CHANGES BEEN BROUGHT ABOUT?
Unfortunately, a number of healthcare practices have been using pilates as a generalized exercise program where all clients are prescribed the same set of exercises in large group classes (6 or more). This type of treatment model doesn't allow clients to get the best outcomes as each client's problems/deficits are different. So, a general exercise program will not be suitable to help the majority of people recover. As a result, the evidence behind this type of generalized "Pilates" class is poor; and so Private Health Insurers have removed Pilates from the list of claimable items unless certain criteria are met…
AM I STILL ABLE TO CLAIM FOR PILATES CLASSES?
YES, so long as the following criteria are met by the healthcare provider (Prime Physio):
Individualized assessment: prior to commencing group classes, clients need to be assessed in a 1 to 1 session so that outcome measures can be taken and a tailored exercise program can be prescribed.

We already comply with this. It is mandatory to have 1-3 one on one sessions prior to starting group classes so that we can create the program, teach the correct exercise technique and evaluate the outcome of the exercises, prior to starting groups.

Individualized exercise programs: programs need to be tailored to the client's deficits and must not only include Pilates exercises. If the class is run by a physiotherapist – it can include Pilates inspired exercises as part of the overall treatment program.

We already comply with this. A number of exercises in our programs include weights, balance retraining, Swiss balls and flexibility exercise.

Clinical notes: need to be taken and include reassessment of outcome measures

We already comply with this. Your exercise program forms part of the notes as well as session specific notes that we do after the class.
We will need to integrate re-assessment as part of our practice to include this in our notes. This will take the form of a simple functional test (eg. Reach for toes, single leg balance, sit to stand etc…) that we will do at the start and at the end of the class.

Marketing: we cannot market our classes as Pilates going forward; even if they include pilates inspired exercises. The word 'Pilates' also needs to be removed from all tax invoices to allow insurance claiming.

We have complied with this: our classes have been rebranded to 'Physio Exercise Classes' – this can be a group or 1 to 1 sessions. The word 'pilates' has been removed from all tax invoices and receipts as required by the insurance companies to allow patients to still claim their rebate.
SUMMARY:
There will be very little change to the group exercise classes. Asides from implementing a quick test at the start and end of the class, they will run as normal. You will still be able to claim the rebate for your classes through your private health insurance as previous.
The major difference will be the name change from Clinical Pilates Exercise Classes to Physio Exercise Classes.